Studios NIOVI
Livadi, Serifos 84 005
Tel.: 22810 51900 - 210 4931108
Mob.: 693 7520624
Fax: 22810 52564
| | |
| --- | --- |
| | |
| | |
| --- | --- |
| | |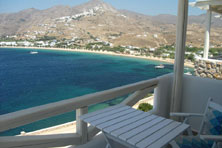 Hearing the whistling of boat on your destination in Serifos and approaching the harbour you have to look aopposite and little right, there will see STUDIOS NIOVI dominating in a splendid amfitheatrical place, that makes it remarkable. The access from the harbour in STUDIOS NIOVI is very easy and fast, following all beach and not turning anyhere the coastal street brings to us, so we can make your vacation better.

Serifos allocates a lot of and beautiful beaches, one from the best of the Balkans is Psili Ammos, that abstains hardly ten minutes from Studios Niovi. Immediately afterwards Saint John and little before the Saint Sosti, are accessible and very nice beaches. In distance hardly 200m. from our studios the organised beach of Livadi can offer calm and a beautiful swimming.
Appreciable beaches are also the Kalo Ampeli - the Bagia- the Ganema , the Koutalas, Mega Livadi with the unique cave of Kyklwpas and the black sand because of the mines that now they have given their place in the history, thanking the travellers who enjoing it.

Very nice beaches are still the Sykamia, the Platis Gialos and many still that you will discover alone in your holiday. Also its worth to visit the monastery of Tachiarch with inhexaustible history and so hospitable monk willing to guide you in the monastery.
Going to Chora of island the view will fachinating you and the alleys with the hospitable locals. In studios NIOVI can any one calmly enjoy his coffee in the courtyards, between flowers, attended with the better way for your enjoyment and relaxation.